Nketiah becomes 1st player born after Wenger's arrival to score for Arsenal… But who is he?
Arsenal looked to be down and out in their Carabao Cup home game against Norwich City, ending another halfhearted quest for Arsene Wenger to win the trophy for the first time in his career. That was until Eddie Nketiah was introduced.
The 18-year-old scored with his very first touch, latching onto a deflected corner to tap home the equaliser before firing Arsenal into the lead in extra time with a close-range headed effort.
Not only did he give Arsenal a place in the quarter-finals, he etched his name into the history books by becoming the first player born after Arsene Wenger's tenure started to score for the club.
Here, Sportsmail runs through the key questions Arsenal fans are asking about their new striker.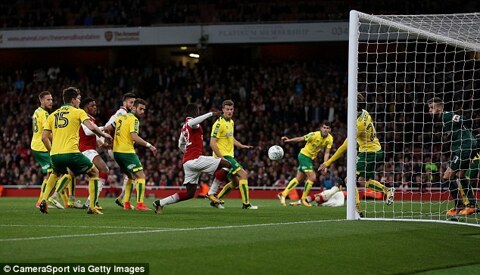 Where has he come from?
Born in Lewisham, south London, Nketiah made his first steps into football with the Chelsea academy. However, he was released by the Blues in 2015 after failing to impress at Under-14 level.
Arsenal invited him for a week-long trial soon after and, seriously impressed with his talent, quickly offered him a youth contract.
What is his playing style?
Hopeful Arsenal fans have already compared the teenager to club legend Thierry Henry, but any speedy striker capable of playing on the flanks is likely to get that tagline.
Unlike Henry, Nketiah is growing a knack for being in the right place at the right time to tap in loose balls, much more like a Francis Jeffers 'Fox in the Box'.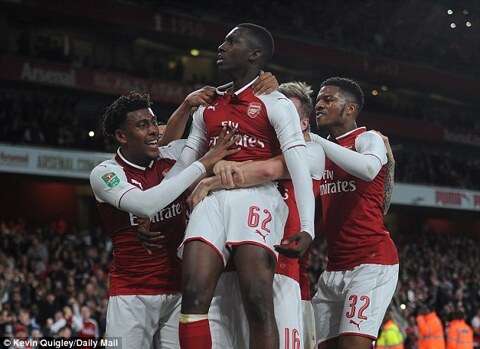 How has he done in Arsenal's youth ranks?
Well. Seriously well.
After quickly establishing himself in the Under 18 squad, Nketiah scored 24 goals in his debut season, finishing as their top scorer. He even appeared for the Under 23 squad before the 2015-16 campaign was finished.
In his second season, he netted 15 goals in 16 appearances for the Under 18s and 12 goals in 26 appearances for the Under 23 side. That included a spectacular hat-trick against Leicester.
Is he an international superstar in the making?
He could be.
He's already fired two hat-tricks for England at two different age groups this year. A goal on debut for the England Under 18s against Saudi Arabia was followed by a hat-trick against Qatar.
The Under 19s came calling and he soon established himself in the team with another hat-trick, this time against Poland in a 7-1 thrashing.
When do the links to Manchester City begin?
Woah. Hold your horses there.
Pep Guardiola may have be having luck coaxing the South American Alexis Sanchez away from the Emirates, but Nketiah is a born and bred Arsenal fan.
He signed his first professional contract with the club last summer and Wenger may already be thinking about an extension.