Manchester United set to battle rivals City for Shakhtar Donetsk midfielder Fred
Manchester United and bitter rivals City are poised to do battle in the transfer window this summer, in the hope of acquiring Shakhtar Donetsk's highly rated Brazilian midfielder Fred.
The player has impressed this season in both his domestic league and European competition, and has been heavily linked to make a switch to the Premier League.
United and City have been set on red alert as a result, with the player also dropping a hint that a move away could be in the pipeline.
While admitting he is happy with his current situation, speaking recently to SporTV the 25-year-old Fred outlined a desire to progress.
'I made it clear to the club that I was very happy here but I want to make a bigger leap in my career.
'There are other clubs interested in England and France. I want to make a bigger leap, I made it clear to the club.
'Now I just have to wait to get through the World Cup and see which is the best destination.
'I think I have to change a little. I have dreams of playing in major clubs in Europe. I made it clear that it's my moment.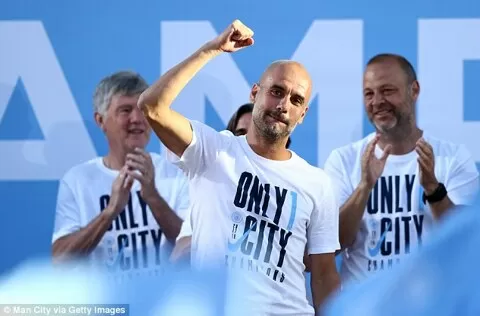 'The club are reluctant to release [me] . I have a contract until 2021. As soon as I come back from the World Cup we will sit down, talk and look at the options.'
City boss Pep Guardiola had initially earmarked Fred in January but his asking price went up, though United have expressed a willingness to pay more than their rivals for the £50million-rated man.
Fred will be on show at the Russia World Cup after being named in the Selecao's 23-man-squad for the showpiece event.
Hits: 3