Lewandowski finished as top scorer in Germany but is uneasy at Bayern Munich
This time last year, Robert Lewandowski was furious. On the last day of the season, Pierre-Emerick Aubameyang had overtaken him in the Bundesliga scoring charts, stealing the golden boot – or 'goalscorer's canon', as it is known in Germany – away from the Polish striker.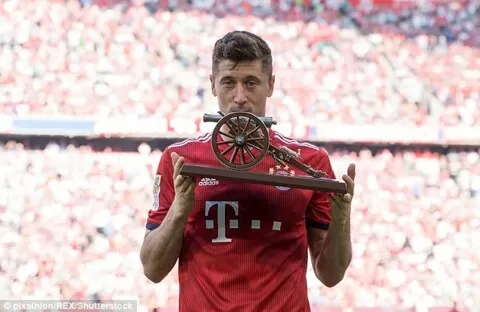 'After the game I was really angry and annoyed with my team-mates,' Lewandowski told Super-Express. 'I wasn't happy with the support they gave me.'
Twelve months on, there is no such anger. On Sunday, Lewandowski was pictured smiling happily with the canon. Aubameyang having left for Arsenal, the Bayern striker was left with no serious competition for the prize, and with 29 goals, was crowned Bundesliga top scorer for the third time.
Yet somehow, Lewandowski didn't seem all that happy. Perhaps it was because, in their last home game of the season, Bayern had only really turned up for the trophy presentation and had slipped to a 4-1 defeat by Stuttgart. Perhaps, also, it was because these are not the happiest of times for Robert Lewandowski.
Just a few weeks ago, it all looked very different. Lewandowski seemed to be approaching a fateful moment in his career. He had scored in four of his last five Bundesliga appearances, putting hat-tricks past Hamburg and Borussia Dortmund.
Ahead of the Champions League semi-final against Real Madrid, Jupp Heynckes had cast him as Bayern's answer to Cristiano Ronaldo. The Champions League, a prize which has eluded him for his entire career, was still within his grasp.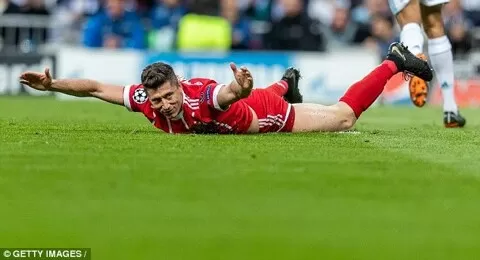 Things change quickly in football. Bayern failed once again to beat Real Madrid, and Lewandowski's Champions League dreams were put on hold for another year. Worse than that, the German media seemed to put the blame on his shoulders.
'Not world class after all,' read the headline in Die Zeit the morning after Bayern's exit. The picture was of Lewandowski lying face down on the grass of the Bernabeu, arms in the air to protest an alleged foul. Bild, meanwhile, immediately demanded that Bayern break the €100m mark in their search for a new striker. Karim Benzema, perhaps, or Paulo Dybala.
Lewandowski, it was pointed out, had not scored in any of Bayern's last five Champions League games. Aside from the 5-0 thrashing of Besiktas in the first leg of the second round, he had failed to score entirely in the knockout stage. Like Ronaldo, with whom he had been compared, Lewandowski had largely gone missing in the semi-final.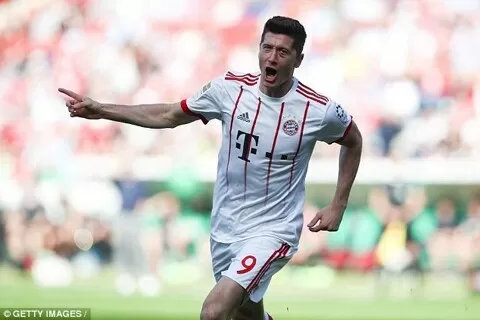 'When Lewandowski gets the ball, his first move is often backwards, or out to the side,' wrote Die Zeit. This gave defenders time, they argued, and made him less dangerous against top teams than he is in the Bundesliga.
That might seem too harsh a judgement. The Pole, after all, has scored 45 goals in 72 appearances in the Champions League since 2011, including a famous hat-trick against Real Madrid in the semi-final of 2013. He has proved that he can do it against big opposition, he just hasn't done so recently.
That, though, matters. This, after all, is a player who even at Bayern is constantly eyeing a move to even grander surroundings. Earlier this season, Lewandowski hired Pini Zahavi as his new agent, increasing speculation that he was angling for a move to Real Madrid.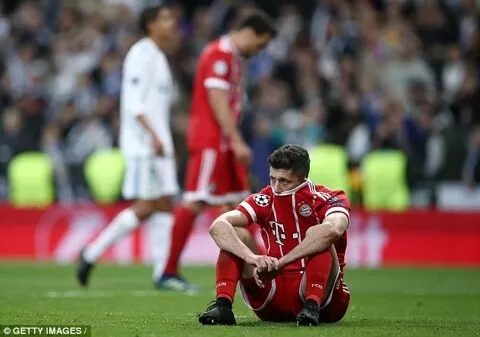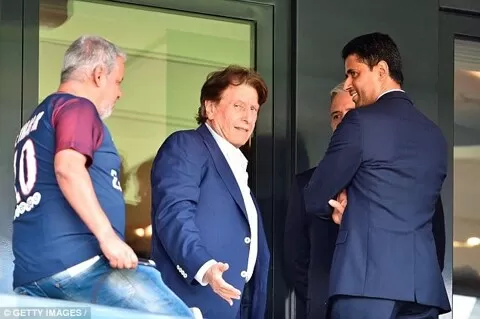 The move, like his Champions League dreams, now appears to have gone up in smoke. Just last week, Sky reported that Real had broken off all contact with Lewandowski, apparently no longer interested in hiring his services.
Bayern, in any case, had long insisted that they would not sell Lewandowski, but there is a difference between staying at Bayern because they won't sell you, and staying there because Madrid won't buy you.
Lewandowski, now, seems destined to see out his contract until 2021 at Bayern. In 12 months time, he will almost certainly be crowned Bundesliga top scorer once again. And in Munich, he always has the chance to win the Champions League.
Yet the uneasy feeling remains, and the clock continues to tick. For a striker who has always had the potential for greatness, this season must go down as another missed opportunity.