Iniesta's father jokes Barcelona icon will 'pay for phone bill' after long distance move
With Andres Iniesta set to complete a switch to the Far East or a similar far-flung land, the player's father has opened up on how close their family is and how they will miss having him around.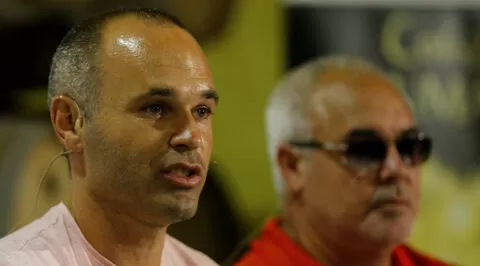 Jose Antonio Iniesta is in constant contact with the midfielder and his family, having let him leave hometown Fuentealbilla at the tender age of 12 to pursue his dream.
"We live a kilometre from his house and, when he leaves, we won't have the opportunity to see each other every day, but we will go and visit him often," he told Barca Inside.
"I will send him the telephone bill to pay for it because we don't know how to live without one another."
With Iniesta set to wave goodbye to the Camp Nou on Sunday, Jose Antonio discussed his emotions as Barcelona beat Sevilla in the Camp Nou final last month.
"We realised what it meant and cried," he confessed. "We have a lot of nostalgia."
A big factor in the Spaniard's next move is said to be his wine business, which his father stated is not an imposition on any negotiations but could piggyback on the player's success.
"It is a family and sentimental company," Iniesta noted.
"We have 40 employees. It isn't very big but we sell our wine in 40 countries. We don't need more.
"Now, if the opportunity presented itself in China, the United States or Australia, thanks to his future club, why not?
"It is not an demand for Andres in his next contract."
Hits: 3023