Enrique Cerezo: Griezmann is an Atletico player
About to attend his eleventh final as president of Atletico Madrid, Enrique Cerezo (Madrid, 1948), is nevertheless still having to deal with the noise surrounding a possible switch to Barcelona for Antoine Griezmann.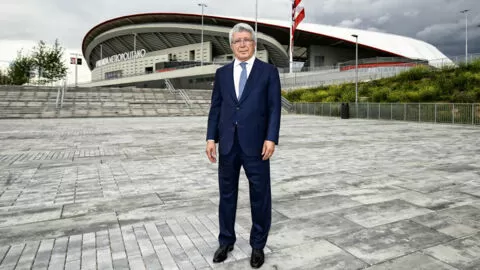 On the other hand, Cerezo is a happy and optimistic president, and his club is ready for their Europa League appointment against Marseille, just a week away.
That's more than enough time for other events, such as Griezmann's continuity, to be discussed.
How did you see Griezmann?
"I see him well, both on and off the field."
And what do you he say about his future.
"That he is a player of Atletico."
Is Griezmann's future red and white?
"Antoine Griezmann is a player of Atletico Madrid and the future has to be decided by him. Our idea is for him to continue here. He is a great player, who forms with Messi and Cristiano Ronaldo the most important trio of footballers of the world. We are proud to have him. We will do everything possible for him to continue with us, but not just Griezmann… Oblak, everyone."
What comes to your mind now we are coming to the end of this season?
"Well, great joy, especially for the fans. The fact of playing eleven finals in the last decade is practically very important, not only for the club but also for the supporters."
Football always gives you a second chance, and now Atletico to where, in 1986, a final was lost.
"In Lyon we had a bad night because we were facing not Dinamo Kiev, but the Russian team, which was a brilliant team. Today the situation is different. Being knocked out of the Champions League gave us the chance to try to achieve our third Europa League in the last eight years."
After the qualification by beating Arsenal, what is the first thing you thought about?
"When I was on my way home, I thought that in all the international competitions we have played over the last 10 years, we always face the best teams in Europe. The fact of having won against all these teams and having Atletico among the greats of European football is of great satisfaction."
Atletico, it's undeniable, is already unquestionably a big team in Europe.
"We are number two in the European ranking. Second! Ahead of Barcelona, Manchester City, Liverpool, Bayern… The thorn that remains stuck and what we wanted to achieve at all costs were the two Champions League finals lost against Real Madrid. We congratulate them for having won, but really at least one had to have been ours, if not both. "
Is there any chance of getting that longed for Champions League in the future?
"We've knocked on the door three times, hopefully the fourth one will not go the same way. And it would be great if next year in the Estadio Wanda Metropolitano we can play this grand finale."
Is the fact that the final is at the Wanda an added incentive or pressure?
"Let's see how the season presents itself. This year we started very well in the Champions League, in Rome, and we finished in the Europa League, which for me is a wonderful competition that UEFA should promote more."
How do you see the [Europa League] final? Have you dreamed about it already?
"I dreamed that Gabi raises the Cup, but you have to play that game, of visualising. Marseille are a great team, very strong and who play very well. We already have experience playing against them and of course they will also want to win."
Is the role of favourite for Atletico good or bad?
"It's always better to be favourite. Always. It's better to think you can be first than to be fourth."
Are you worried about the refereeing?
"Not at all. "
What feelings do you have about the journey to this final?
"It's been hard. All the matches are very hard. In the Champions League we had two bad games and we were out. Maybe if we hadn't failed I think that Atletico could now be in the final in Kiev"
What is your best memory as president?
"This is like when they ask you for the best movie you've seen. There are so many that I have seen… Here are thousands of memories… The best memory was when we won the first Europa League in Hamburg. It was wonderful because it was the beginning of a new stage of Atletico Madrid."
The Wanda Metropolitano has been praised by everyone and that must be a great source of pride…
"At the moment there is no stadium in Europe like the Wanda. You have to feel proud twice: it is the best stadium and we have started in a magnificent way there, winning, second in the league, playing a European final… The magnificent trajectory of the team has been the best premiere for the stadium."
Does the Wanda already feel like home?
"Yes. It has been a wonderful year. We start winning and we will end up saying goodbye to a player like Fernando Torres."
Do you have hobbies or superstitions when it comes to witnessing the final?
"We always have something… but it's better not to say it."
Of all the congratulations you received when you got into the final, which one touched you the most?
"All. Especially that of our King Emeritus."
Were a lot of other presidents in touch?
"Yes, all of them. Bartomeu, Florentino…"
What did Florentino say?
"Let's see if we saw each other in the European Super Cup in the summer."
And what did you answer?
"That I will see him there…"
Do you think the 46 million Spaniards will side with Atletico next Wednesday?
"I think so. Atletico Madrid is a well-loved team throughout Spain and around the world. They always win and always gives prestige to the team they face."
As soon as the final is over, the issue of ups and downs will take centre stage.
"There are thousands of footballers who want to play at Atletico Madrid. The exits will be the ones that have to be. Now we do not think about that, we think about being able to be European champions, in which we have a great, ideal coach, and who will be with us many more years."
Are you worried about the Marseille fans?
"I like to talk about my fans. The OM fans will go to see a football match, not a war."
Do you see possibilities of breaking the Barcelona – Madrid monopoly in LaLiga?
"We were ready to this year, but Barcelona surpassed us, has been a champion and we have to congratulate them. We are second, which is extraordinary, but we won't settle for that and we will continue to aspire to win the league again. "
Economically, how are Atletico?
"We are fighting and trying to have more income to reduce the debt we have. We have great people in our club who handle the economic section that they are doing magnificently. Miguel Angel Gil and his team – I want to congratulate them. Atletico is getting bigger every day."
What is the secret of Atletico Madrid?
"We know how to lose and know how to win, and we always come out to win."
You have a new fan: Rafael Nadal.
"Hahaha… Rafa Nadal is national heritage. He's everyone's property. He is an authentic Spaniard and will be well received and well treated in any team. I loved seeing him at the Wanda and I wish he went more times."
Do you think there is excessive tension in the world of football?
"Yes. There is too much, and it hurts football, but life is the way it is and there are things that nobody can stop."
How do you like the implantation of the VAR?
"I think the controversies are pretty in football. The VAR is not going to clarify 90 percent of these things… I am against it personally. As president, it's what my club and the team say also."
What do you make of the referees?
"There are good, very good, normal and bad referees. The plays each one sees as he sees them. They have to see in tenths of a second what we see with hundreds of repetitions. You have to let the referees work in peace. I never care who referees, neither at home nor away. In the end, what they give you, they take away from you."
Fernando Torres leaves, an icon.
"Fernando is a person that Miguel Angel and I especially wanted. He's part of the history of Atletico Madrid. He started with us, he triumphed with us, he left and he came back. Of Fernando we can only speak wonderfully well. He is a guy loved by everyone. I thank him from my heart for the years he has been with us. Against Eibar he will say goodbye to the fans and they will respond as he deserves."
Another indispensable name is Simeone. So much has been said about him… what could be added?
"As he has many years left, the only thing I can say is that he continues on this line, that he is doing phenomenally well, that at Atletico he only has friends, not an enemy and that is very important."
Another source of pride is the academy and also women's football.
"That's a great job that Miguel Angel is doing with the Academy. The future is important and right now we handle a significant number of boys and girls who want to play football. There is a good budget so that these things can prosper and improve and we are already seeing the results. It is very important for the club to find players at home. Not only for what it means for the economic part but also for the social part. "
Will there be surprises this year with regards to signings?
"In all teams there are surprises. We are in a situation where any footballer wants to come and play with us."
The day after the Lyon final, a final is played at the RFEF. How do you see the elections?
"I have said it a thousand times, we support Juan Luis Larrea. Not because Rubiales is a bad candidate, they are two good candidates, but because we believe that for two remaining years of mandate, Larrea is the person who should continue."
The last question: Do you have any pledge in case you win in Lyon?
"The promise I have is that if we win in Lyon, next year we have to win in the Wanda Metropolitano here in Madrid."
Hits: 3